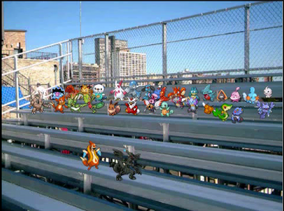 SurfinBuizel's TPI is a new TPI on Youtube. It's pretty unknown but it will be "epic", according to the creator. This TPI is one of Surf's 4 other uncompleted seasons (2 using figures and 2 using animation) but this one will be finished. In total there are 30 campers, 2 host/chefs, and probably some add-ons later on in this show.
The campers in this show are in that pic over there ------->
They are:
Clamperl
Vulpix/Ninetails
Meowth
Mjiumuro
Zangoose
Cranidos
Riolu
Slugma
Corphish
Munchlax
Gible
Happiny
Snorunt/Frosslass
Mudkip
Castform
Pinsir
Buizel
Syther/Scizor
Treecko
Eevee
Delibird
Ninjask
Mime Jr.
Squirtle
Volbeat
Illimuse
Combee
Tsutaja
Croagunk
Gligar/Gliscor
Ad blocker interference detected!
Wikia is a free-to-use site that makes money from advertising. We have a modified experience for viewers using ad blockers

Wikia is not accessible if you've made further modifications. Remove the custom ad blocker rule(s) and the page will load as expected.