Spiritomb is a dual-type Ghost/Dark Pokemon.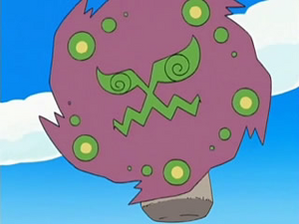 Misdreavous525
Edit
Spiritomb lived deep inside the Hallowed Tower with just his mother. He was always sheltered and didn't know much about the outside world and Pokemon. On his first trip outside of his home, he saw the ad for Total Pokemon Island. At first his mother was against it and Spiritomb fought with her for days about it. Suddenly the last day of the deadline, his mother caved and wished him the best. Sadly she had no idea her son, would try to take on the persona on an evil, ugly, fat cat.
Spiritomb is one of the strongest of Team Bandicoot in Total Pokemon Island. He is Crunch Bandicoot in the cast. His love interst is Jynx as Bridgette.
Rankings:TPI:32th TPA:3nd
Ad blocker interference detected!
Wikia is a free-to-use site that makes money from advertising. We have a modified experience for viewers using ad blockers

Wikia is not accessible if you've made further modifications. Remove the custom ad blocker rule(s) and the page will load as expected.