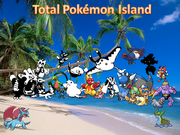 TPI is the first season of SHINXBOY1's TP Series.It is hosted by Salamence and cheffed by Gastrodon.24 campers are competing for $1,000,000.In the end it was Luxio vs Ledian but in the end Luxio evolved into Luxray & took it all.
Host:Salamance
Chef:Gastrodon
Winner Of TPI:Luxray
Runner-Up Of TPI:Ledian
Elimination:
27:Ledyba
26:Snorunt
25:Porygon2
24:Chinchou
23:Mantine
Porygon-Z, Frosquire, & Ledian Return
22:Natu
21:Lopunny
20:Porygon-Z
19:Mismagius
18:Frosquire
17:Exploud
Mareep & Riolu Join
16:Quilava/Sealeo
15:Sealeo/Quilava
Merge
14:Machamp
13:Gardevoir
12:Rampardos
11:Monferno
10:Glaceon
9:Honchkrow
8:Jynx
7:Sceptile
6:Magmar
5:Lucario
4:Flaaffy
3:Mightyena
(Runner-Up)/2:Ledian
(Winner)/1:Luxray
Ad blocker interference detected!
Wikia is a free-to-use site that makes money from advertising. We have a modified experience for viewers using ad blockers

Wikia is not accessible if you've made further modifications. Remove the custom ad blocker rule(s) and the page will load as expected.