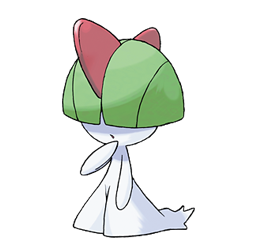 Ralts is a Psychic pokemon introduced in Generation III. It evolves into Kirlia at level 20.
Vaporterra
Ralts was the Leshawna of the cast, so she's a hard core competitor with a nice side. Ralts aligned with Froslass and Charmander because she wasn't a big fan of Yanmega and Rapidash. Ralts evolved into Kirlia in Episode 6 after beating Skorupi at tether ball.
MrPokeguy9
Edit
Ralts was one of the 34 orginial campers that came to the island. she was a shy female who didn't really speak much but tried her best at every challenge she did. In episode 6 she was in the bottom two with Lickitung and was eliminated because of her poor effort in the challenge finishing in 37th place in the competition.
| | |
| --- | --- |
| Friends | Lickitung, Chansey, Corsola and Aipom |
| Enemies | Corphish and Elekid |
| Rank | TPI-37th |
Ad blocker interference detected!
Wikia is a free-to-use site that makes money from advertising. We have a modified experience for viewers using ad blockers

Wikia is not accessible if you've made further modifications. Remove the custom ad blocker rule(s) and the page will load as expected.