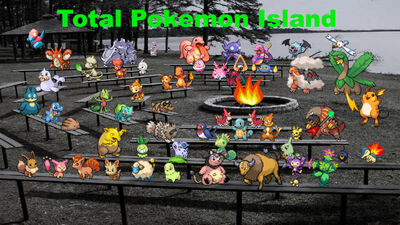 Raichu takes 22 contestants to a summer camp for a chance to win 100000 Poke but he soon realizes due to a misunderstanding he has to deal with 53 teenagers.
Warning page contains spoilers
Host Raichu
Chef Gigalith
Assistant Gasper the Silkoon
Contestants
Edit
Positive Politoed
Chikorita-The Smart Girl
Vulpix-The Tough Girl
Maractus-The Tomboy
Corsola-The Nice Girl
Eevee-The Girly Girl
Lilipup-The Talkative Girl
Nidoran♀-The Hopeless Romantic (OUT)
Wurmple-The Bad Sister
Piloswine-The Vengeful Nerd
Smeargel-The Weird Artist
Munchlax-The Rude Nerd
Larvitar-The Gamer
Cyndaquil-The Party Animal
Roggenrola-The Sidekick
Wingull-The Guy With A Big Heart
Teddiursa-The Toddler
Pichu-The Unsocial Girl
Charmander-The Nice Jock
Castform-The Quiet Girl
Happiny-The Bad Nurse
Squirtle-The Guy Who's Just A Friend
Buizel-The Jock
Heatmor-The Musician
Mareep-The Queen Bee
Torkoal-The Sick Guy
Chimchar-The Idiot With A Temper
Mighty Magikarp
Bulbasaur-The Natural Born Leader
Treeko-The Country Moron
Tailow-The Rich Guy
Zigzagoon-The Cynical Nerd
Petilil-The Cheerleader
Drowzee-The Stalker
Magby-The Normal Guy
Snorunt-The Shy Girl
Rhyhorn-The Nobody
Totodile-The Mentally Insane Guy
Venipede-The Double Personality
Tropius-The Hot Guy
Aipom-The Bad Mouth (OUT)
Wurmple-The Evil Sister
Kecleon-The Scared Guy (OUT)
Sandile-The Typist Guy (OUT)
Seel-The Nice Nerd (OUT)
Corphish-The Honest Guy (OUT)
Chinchou-The Popular Yet Quiet Girl
Porygon-The Robot
Miltank-The Big Girl On A Diet
Lickitung-The Fat And Stupid Guy
Ekens-The Mean Girl
Sableye-The Charming Evil Guy
Tauros-The Diabetic Glutton
Woobat-The Mischief Maker
None
Skitty-The Psychotic Otaku (OUT)
Elimination Order
Edit
61 Delcatty
60 Kecleon
59 Sandile
58 Nidoqueen
57 Dewgong
56 Ambipom
55 Corphish
54 Pilowswine
53 Corsola
52 Munchlax
51 Porygon
50 Shieldon
49 Zigzagoon
48 Lileep
47 Smeargle
46 Wartortle
45 Magmar
44 Frosslass
43 Scolipede
42 Lillipup
41 Swoobat
40 Rhyhorn
39 Teddiursa
38 Wingull
37 Chimchar
36 Arbok
35 Heatmor
34 Charmeleon
33 Happiny
32 Maractus
31 Carbink
30 Sebleye
29 Hypno
28 Castform
27 Scolipede (Again)
26 Touros
25 Cottonee
24 Torkoal
23 Sylveon
Merge
22 Miltank
21 Lickilicky
20 Cyndaquill
19 Dustox
18 Lucario
17 Tododile
16 Floatzel
15 Lanturn
14 Lilligant
13 Ninetales
Skitty was the only contestant not put on a team because she was eliminated before the teams were made
In Episode 6 one of the Wurmples and Aipom switched teams
Lileep and Shieldon joined the cast inmmh
Ad blocker interference detected!
Wikia is a free-to-use site that makes money from advertising. We have a modified experience for viewers using ad blockers

Wikia is not accessible if you've made further modifications. Remove the custom ad blocker rule(s) and the page will load as expected.