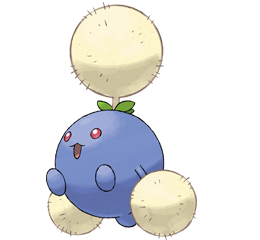 &nbsp
Jumpluff

Gender:

Female

Body Color(s):

Blue and Orange-ish

Eye Color(s):

Red

Elimination Episode:

TPCT:Bombs La Romance

Place:

TPCT:9th Booted Out

Relationship:

Azelf/Trizelf

Family:

Jumplor(Step-"Father")Jumka(Step-"Mother)

Mr/Mrs.Linoones(Real Parents)

Friends:

Azelf,Liepard

Enemies:

Pachirisu

Fear:

Suicide
Biography
Edit
Jumpluff who was labelled as "craziest pyscho ever" appeared on Jirachi's "Total Pokemon Cargo Tour" as a newbie and was on Team Metallica.
She was originally a Linoone, but after getting told by her old friend that she couldn't love a legend. She punched Azelf through a candy machine and that night, she commited suicide.But she was reincarnated into a Hoppip.
She was medically evacuated in TPCT episode 4, after falling off the roof of the Eiffel Tower, however she is scheduled to appear in season 4:Total Pokemon All-Stars
Ad blocker interference detected!
Wikia is a free-to-use site that makes money from advertising. We have a modified experience for viewers using ad blockers

Wikia is not accessible if you've made further modifications. Remove the custom ad blocker rule(s) and the page will load as expected.