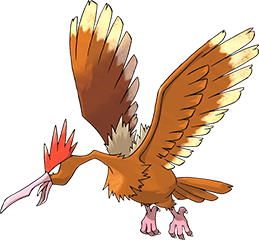 Fearow is a Normal/Flying Pokemon introduced in Generation I. It evolves from Spearow at level 21.
Flashpikachu1
Fearow comes here as a Spearow he come to the end of the episode a win.
Personality:

Geoff and Duncan mix (some of a Eva)

Friends
All except enemy
Enemy
Bellsprout, and Pikachu
Rank

TPI(1):1st

TPI(2):2nd

TPA:20th

TPWT:6th
Trivia:
-He a gangster/ Mexican
-He did not compete in Season 4
-He quit in episode 10 in Season 3
InsaneXmas
Fearow evolved from Spearow during TPI and since he failed to qualify for season 2, Fearow is on the Aftermath show.
Ad blocker interference detected!
Wikia is a free-to-use site that makes money from advertising. We have a modified experience for viewers using ad blockers

Wikia is not accessible if you've made further modifications. Remove the custom ad blocker rule(s) and the page will load as expected.