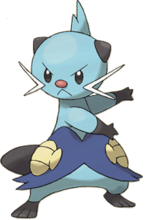 This article won Pokemon of The Week.
Dewott is a Water-type Pokémon introduced in Generation V. It is the evolved form of Oshawott and the pre-evolution of Samurott
Dewott, while still being an overall new pokemon, is being played by 101Loyola1012 for Season 5 of Total Pokemon Cruise.
Misdreavous525
Edit
He evolved from Oshawott along with his girlfriend Zorua in Total Pokémon Live episode "More Bang for Your Buck".